Citrix - Overview
You can use Pega Robotic Automation to create solutions that run in Citrix environments. Using a custom Citrix context within Studio solutions, you can integrate applications running on the Citrix server with those running on the Citrix client machines.
Note: See Using Citrix Contexts, which you can download from the Robotic Automation product page, for detailed configuration information and a hands-on exercise for Studio. The examples will help you better understand how to use Studio and Citrix.
Here are some example configurations: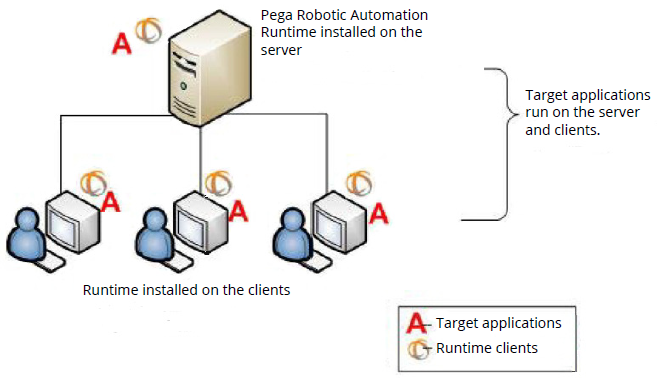 Use the Context project item to designate the adapters, automations, and other project items to be launched from the Citrix server.
Note: When you build an automation in Citrix mixed-mode, keep in mind the automation can only have one exit point and it can only return one parameter. For more information on Studio and Citrix mixed-mode, see Using Pega Robotic Automation and Citrix Streaming Applications.
If in a Citrix farm all applications are running on all servers, you must have a context for each server. Also, Runtime must be running on both the Citrix server and the client machine.
To use Citrix Contexts, you must do the following:
Note: For information on the ShutdownRuntime utility, see Shutting down Runtime in a Citrix implementation.