Run Actions
Run actions are options available for Studio project items in the Solution Explorer. Use Run Actions to specify which project items you want to load when running the project. Using Run Actions in Studio while designing a project lets you run parts of a project without running the entire project. You can also deploy the project such that the Run Actions selected in the Solution Explorer are applied to the deployment package.
For example, in this example, the FindStore automation is set to 'Not Run':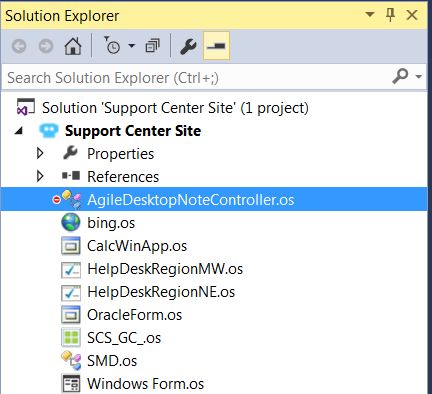 To deploy the solution with the Run Actions as set in Solution Explorer, check the Include Run Settings box on the Project Deployment window.
Note:  If the Include Run Settings check box is selected when you create the deployment package, the items set to Not Run are included in the package. They will not, however, be fully loaded when the project is run. For automations set to Not Run, components on the Global tab will be available for use by the runtime project. The components on the Local tab will not be available for use by the Runtime project.
Related information
---
Privacy | Trademarks | Terms of Use | Feedback
Updated: 18 June 2020
© 2016 - 2020 Pegasystems Inc.  Cambridge, MA All rights reserved.